accessibility & content warnings
accessibility in holovista
We want HoloVista to be accessible to as many people as possible, so we want to let you know in advance the kind of things you might expect to encounter when you play. We've done our best to improve accessibility where we can, but we recognise we haven't covered everything.
We hope the below information will help you make an informed decision so about whether our game is for you. If you have any further enquiries that aren't covered here, please contact us at support@aconite.co
accessibility features & considerations
HoloVista is a one input experience, with no complex controls
HoloVista contains no haptic feedback
HoloVista uses an interactive tutorial for game play experience
HoloVista has no time limits or time-gated interactions
HoloVista contains no quick time events, button mashing, or long-term holding a finger down
The game is easy-start, with minimal menu interaction to begin HoloVista
Most text progression in HoloVista can be controlled by the player
All narrative can be replayed, re-read, and re-visited at any time, excluding a small final portion of the game
All gameplay scenes can be replayed and reviewed at any time, excluding a small final portion of the game
When the game is completed, all scenes can be reviewed and replayed
No information essential to gameplay in HoloVista is conveyed only by sound
No information essential to gameplay in HoloVista is conveyed only by color
Movement in the game can be done with either, or a combination of, dragging, swiping, and physically moving the play device around
Motion input can be turned off, so you can play laying down, sitting, walking, or on transit
You are not required to pinch to zoom in order to capture photos for progression
Music can be lowered or turned off
Sound can be lowered or turned off
Most key text such as chat dialogue, feed posts and more in HoloVista can be sized up
Contrast of text in HoloVista can be increased slightly in the settings menu
HoloVista uses a combination of Serif and Sans-Serif fonts to communicate key information for player progression
Visual Effects such as strobing, glitching can be reduced in the settings menu via toggle
visual examples
Default Settings Menu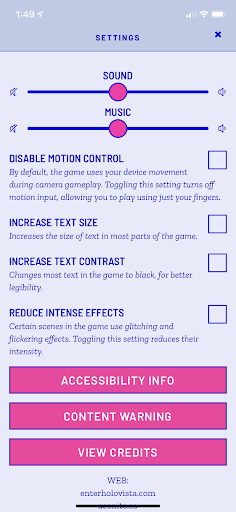 Settings Menu, Increased Contrast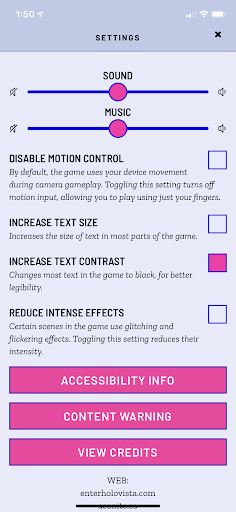 Settings Menu, Enlarged Font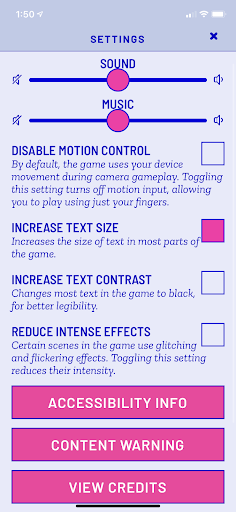 content warning
HoloVista is a game that explores a number of themes and feelings.
The exploration of these themes was done with the support of lived experience as well as consultation where appropriate on a number of issues.
Below you can find a list of themes and content encountered in the game - whether mild or frequent, visual or referenced.
themes
Mental Health
Religion
Death
Alcohol & Drug References
Suicidal Ideation
Self-Loathing
Psychosis
Dealing With Misogyny
Minor Ableist Language
Swearing
visual warnings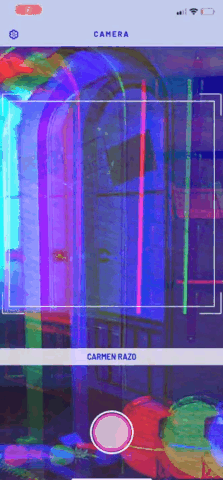 There are some visual effects in portions of the game. These include flickering, strobing, glitching. There are also visuals such as animal skulls.
Visual effects can be reduced in the settings menu at any stage, which will turn off a majority of the visual effects that could cause issues for a user. Here is an example of how this effect operates. This will not turn off visuals such as skulls, or other potential triggers, and is not a solve for all potential sensory or cognitive needs.
gameplay spoiler warnings
The following information will spoil elements of the games narrative, or is more detailed information that may be relevant to you if you have intense or recent triggers.
Click to reveal these spoilers.